Realizing I'm not on track to hit my goals, I've been doing more experiments recently, and one has gotten some momentum. It's a very small product compared to what I have already released.
# My primary indiehack
I have a content business where I create screencasts for people learning the Elixir programming language. Many are free, but my paid subscription is more expensive than any of my direct competitors. The material is generally aimed at my peers, not complete beginners.
This business monetized pretty quickly and retention is very good. In many ways I'm happy I chose the project I did. Elixir is a language I have experience with, it's one that I see as a competitive advantage in my future startup plans and when I started teaching it, there was only one other regular paid screencast I know of and they were busy moving on to other languages.
# Stagnation
Things started pretty quickly for my screencasting service, but top of the funnel growth really slowed down after the first 18 months. I definitely don't think I've gotten any worse at what I do. I've improved my work flow, my recording equipment and my site substantially.
Unfortunately, Elixir is about the 50th most popular programming language and that really hasn't changed much in the past three years. Additionally, I've seen a lot of my peers start making video courses of their own. So have several of my students. Some experts who I've learned from for years have, too.
# More exploration
I've been able to spend more time working on entrepreneurial efforts the past couple of months, than I did before. I've put some of that time into increasing my production of screencasts and working on some newer, more difficult kinds of videos, but I still have more working time available.
So, I decided to start casting a wider net of things that could help me grow the business. I've looked at much larger, more ambitious projects, like building a SaaS or taking another stab at a two-sided marketplace.Writing software products probably makes aligns with where my competitive advantages have been moving in the past decade. Those are a lot of work and (usually) take a huge investment before profitability, though. I could easily bite off more than I can chew as a solo founder and I don't have a cushion to fall back on. So I decided to stick to smaller, cheaper experiments.
# A small, inexpensive product
The first one is a very small product and I launched it last week. Instead of video screencasts, it's a book. It's not even a full-length book! I advertised it as a "mini-ebook" aimed at beginners who just want to give Elixir a try. I plan to generate a PDF eventually, but I'm currently just writing it on my site using a crazy VuePress app crammed inside a Phoenix app architecture. It was quick to get up and work with, though!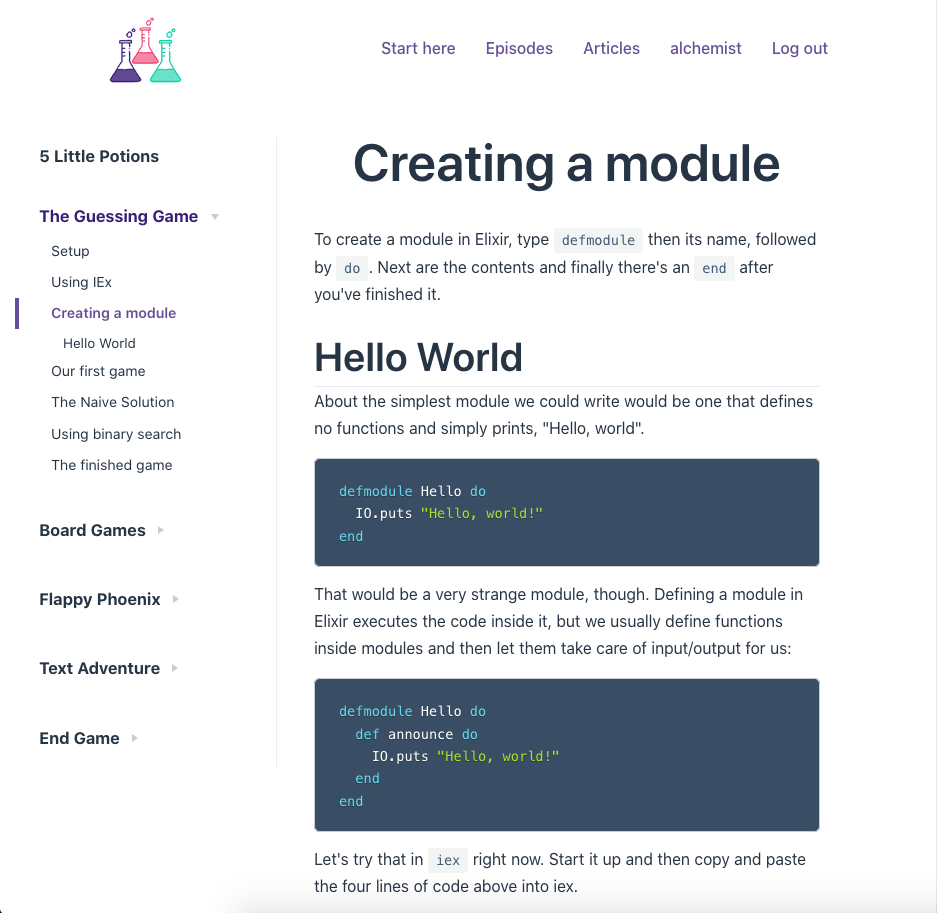 I sold it at a big discount via Gumroad and gave it away for free to my paying screencast subscribers. This lead to by far the most viral tweet I've ever written!
That tweet lead to interactions with no less than three different authors who I respect have learned from myself—the one whose book taught me to program, the one whose book helped me level up and learn Lisp back when I was at Groupon doing nothing but CoffeeScript and a tiny bit of Ruby and one whose Rust roguelike tutorial I've been going through this past month.
It lead to some sales too, of course. It's definitely not as much revenue as if I'd priced it aggressively, or even if I'd just found some contracting work to do during the same time, though.
The real magic was its reach!
# My takeaway
It's good to #chargemore in many ways, but it's also worth building a value ladder that starts small.
Cheaper products are so much easier to get support sharing than expensive ones that it's a qualitatively different experience. They're much easier to buy on an impulse than a high-priced item but they still build more trust over time than a free one. Even for a $5 product, there's a sense of obligation on the seller's side. There's also more of a commitment on the buyer's side than there is for someone just subscribing or following a creator online.
---